who is ASID?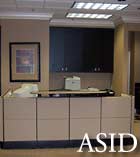 503


Who is ASID?

The Georgia Chapter ASID is a regional resource for knowledge sharing, advocacy of interior designers right-to-practice, professional education, and expansion of interior design markets. The Chapter Office is located in the Atlanta Decorative Arts Center (ADAC) and its office hours are from 10:00 a.m. - 2:00 p.m.

Professional members of ASID must pass rigorous acceptance standards: they require a combination of accredited design education and/or full-time work experience and passage of a 2 day accreditation examination given by the National Council for Interior Design Qualification (NCIDQ).

ASID Georgia Chapter Strategic Plan Summary



Mission Statement: Brand ASID in Georgia through relevant programs and services delivered effectively to the profession and to the public with a focus to build the next generation of the profession.



Goal I


Provide relevant programs that enhance members' practice and support partners and clients
Objective A: - "Build the next generation"

Strategy 1: Strengthen corporate designer presence and reinforce residential designer presence
Strategy 2: Strengthen industry involvement for a winning combination of give and take
Strategy 3: Strengthen student involvement at student chapter and GA Chapter levels
Strategy 4: Strengthen committee make up with quantity and quality
Strategy 5: Re-engage past leadership



Objective B: - To provide benefits for all levels of membership

Strategy 1: Encourage excellence through Design Excellence Awards Competition and Celebration as a major event for the chapter
Strategy 2: Provide broad base events / programs
Strategy 3: Provide audience-specific or small group focus programs
Strategy 4: Continue Referral Program


Goal II


Provide effective delivery vehicles that support members and to ensure that ASID brand is dominant in the market place
Objective A: - Promote One-on-One (1:1) Internal Communications and Marketing

Strategy 1: Strengthen website's content and aesthetics to promote ASID and its benefits to each member
Strategy 2: One-on-one (1:1) marketing to grow membership involvement in quantity and quality
Strategy 3: Follow guidelines established by Media Task Force
Strategy 4: Facilitate transition to next year
Strategy 5: Educate our own members of the ASID member benefits



Objective B: - Promote One-on-One (1:1) External Communication, Marketing, and Public Relations

Strategy 1: Enhance website's content and aesthetics to promote ASID to our industry and the public
Strategy 1: Market value and strengthen presence of ASID and our members to public - both commercial and residential
Strategy 1: Market value of ASID to potential members
Strategy 1: Build school / faculty / student relationships [This will actually include some member and some non-member targets.]


Goal III


Provide for chapter operations for present and future development
Objective A: - Maintain Office

Strategy 1: Maintain Office Administrator
Strategy 2: Maintain office FF& E



Objective B: - Provide leadership training for members

Strategy 1: Send President, President Elect, President Elect-Elect, Chapter Administrator, Industry Partner to required events
Strategy 2: Expand sponsorship to National Conference and student events



Objective C: - Protect the right-to-practice

Strategy 1: Support GAIDP
Strategy 2: Encourage registration



Objective D: - To create fundraising opportunities

Strategy 1: Maintain current fundraisers
Strategy 2: Explore new fundraisers


The professional interior designer is qualified by education, experience and examination to enhance the function, safety and quality of interior spaces. Interior design combines critical and creative thinking, communication and technology for the purposes of improving the quality of life, increasing productivity, and protecting the health, safety and welfare of the public.

Interior design includes the following specialties:
Residential
Hospitality
Retail / Store Planning
Health Care
Corporate / Office Design
Facilities Management
Institutional / Government
Education / Research

Interior designers' services include consultations, programming, space planning, design analysis, drawings, the specifications of fixtures and their location, furnishings, reflected ceiling plans, and fabrication of non-load-bearing elements of interior spaces of buildings. All drawings and documents prepared relative to the design of interior spaces are done so in compliance with applicable building and safety codes. Interior designers have comprehensive professional training and technical responsibilities and must have an understanding of:
Flame spread ratings and fire rating classification of materials;
Space planning for public and private facilities;
National, state and local building codes and standards;
The needs of handicapped and elderly persons and other special need groups;
Lighting quality and quantity;
Acoustics and sound transmission.
Every decision an interior designer makes, in one way or another, involves life safety and quality of life. Some of those decisions include specifying furniture, fabric and carpeting that meet or exceed fire codes, complying with other applicable building codes, designing ergonomic work spaces, space planning that provides proper means of egress, and providing solutions for the handicapped and other persons with special needs.
Relevant links at ASID National website -
ASID | Georgia Chapter
email: info@asidga.org
voice: 404.231.3938
fax: 404.231.5805