Avoid ruining your game room idea and ending up with a poorly assembled and uncomfortable area. Knowing how to make your game room an attractive and comfortable destination will help you effortlessly game, entertain, and enjoy your guests and loved ones.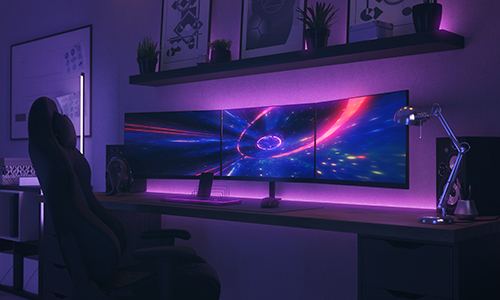 asidga.org gathered the following information, ideas, and tips to help you design, decorate, and furnish the ultimate game room.
How Do You Create a Game Room?
Do you have a spare room? If so, you can transform it into the game room of your dreams! First, you'll need to settle on a theme;
Vegas-themed mini-casino
Home theater
Adventure movie theme
An arcade room
A board game room
A bar game-themed space
Teenage gamer's room
Tip: When selecting a game room theme, consider who will use it, their age group, and their recreational interests.
Game Room Ideas
Once you've settled on a theme, get the room's measurements and use the following ideas to help you create the best game room possible.
Game Room Ambient Lighting – Your game room should create an ambiance corresponding to your theme. The lighting you choose to install will help you enjoy the whole gaming experience. Natural lighting is not always the best choice for a digital or screen gaming area. The brightness can interfere with the visuals and ruin the gaming experience.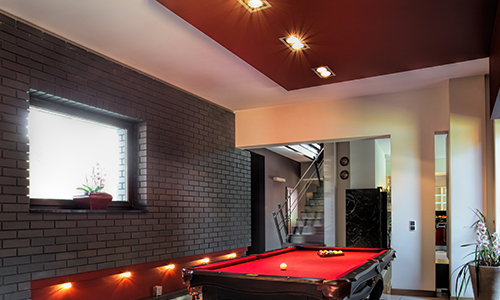 Your room's lighting should always be designed to complement the type of games you intend to play. If your gaming space is for video games, then indirect, LED strips, or soft overhead lighting, may be better suited for the room.
However, RGB spectral deflections (color television, monitors, or home theater screens) can strain the eyes. While the lights should not interfere with the gaming experience, they should be sufficient to brighten the room's interiors to prevent optical damage (online competitive gaming sessions can run long).
Game Room Decoration – The decor in your game room can reflect your favorite games and activities. You can display your favorite gaming collectibles, trophies, and consider using gaming wall art.
You can add collectibles to themed wall decor and develop creative scenery throughout the room.
Note: Video game room ideas are dependent on creating a welcoming and safe space to explore your horizons.
Gaming Furniture – For those developing a digital or online game room, get yourself a gaming desk. Particularly if your gaming activities will depend on a PC or a laptop. You need a flat surface for your keyboard and mouse (and space to put your food, snacks, and drinks).
If you use a large or wide-screen wall-mounted system, you will still need to consider installing shelf space or incorporating dynamic seating with cup holders or a fold-over table.
Game Room Seating – Your gaming chair should provide the best support and comfort when playing for long periods. Modern gaming chairs typically come equipped with adjustable armrests, lumbar support pads, headrests and can include personal surround sound.
Tip: Before investing significant resources in a gaming chair, test the product to ensure a comfortable experience.
Home Theater Seating – Home theater chairs are a group of movie recliners placed together with armrests in between. The armrests on theater-style seating typically feature holders for cups and snacks. Most entertainment chairs are made of leather or faux leather and are comfortably padded to make movie viewing a relaxing and enjoyable experience.
Tip: Install LED or fiber optic lighting strips beneath the seating, on the floor, or on the baseboards for low lighting that allows you to see where you are going without interfering with your cinematic experience.
More than Video Games – A game room is meant to assemble all family members, your friends, and loved ones when you wish to spend some quality time laughing and playing.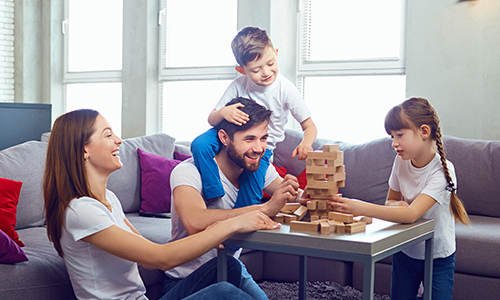 You can set up your game room to facilitate any gaming type (video games, board games, table games, etc.). It can be a fun-filled space to sit and play Monopoly, Hearts, Poker, Checkers, Chess, Pictionary, charades, etc.
Remember that gaming rooms are meant to provide a safe environment where children and adults can develop their creativity, inspiring young minds to build stronger, more competitive personalities with depth and intelligence.
Your gaming room design can include games like Scrabble, Scattergories, Hangman, and Crosswords can inspire better vocabulary usage and general knowledge.
Tip: For game rooms serving multiple age groups, install extra seating like beanbags, stools, and sofa space for comfortable lounging.
Adult Game Rooms – Many game room ideas are designed to be "man caves." Such game rooms are typically complete with a full wet bar, TV to watch sports, and a billiard, pool, or poker table resembling a high-class sports bar setting.
Games as Decor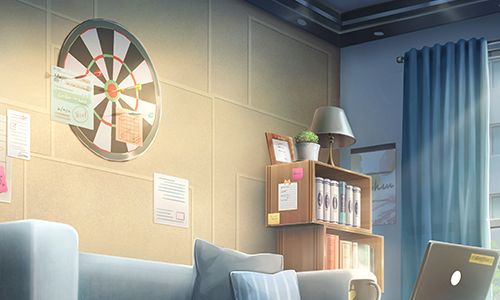 Instead of folding up and tucking away old board games or putting away movie premier posters, frame them and hang them on the walls. It's the perfect way to decorate game room walls around your foosball or pool table.
Ideas for Your Game Room Design
In this article, you discovered exciting ideas and tips that will help you design, decorate, and furnish the perfect game room for your fun and relaxation.
Knowing how to decorate and furnish your game room will help you avoid uncomfortable furniture, prevent stressing your eyesight, and create a welcoming environment for friends and loved ones.
Ignoring the need to plan out your game room design will leave you with a mixture of random and uncomfortable furniture, poor lighting, and an off-putting atmosphere, in a place initially intended for comfort and enjoyment.
Sources:
scalar.usc.edu/works/ideas-1/index
yourgamecave.com/what-is-a-game-room-in-a-house/
hgtv.com/design/rooms/other-rooms/engaging-game-rooms-pictures